Professional Cake Smash and Splash Photography in Preston, Lancashire
Specialist Baby & Children's Photographer
Cake Smash and Splash Photoshoot Just £145
Go Create! 1st birthday cake smash photo shoots are a great way to celebrate a little ones first birthday and with professional cake smash and splash photoshoots costing just £145 inclusive why go anywhere else?
Secure a Slot today with a £30 Deposit
Cake Smash photo sessions are always so much fun and create lots of wonderful images that will last a lifetime.
Photography is a great way to capture those all-important milestones and baby's 1st birthday is a big event in your baby's life.
If your baby is approaching their first birthday, now is the time to be booking a cake smash birthday photo shoot.
This experience is all about your amazing birthday boy or girl and to have a wonderful memory to take away with you.
Email us: Penny@gocreate-preston.co.uk    Call us: 01772 616898
Bookings can be made using the booking form below.
What's included:
You will receive a cake smash photoshoot lasting approximately 30 -45 minutes of your little one.
We will provide the backdrop and all props (including outfits) however you will be required to bring a cake.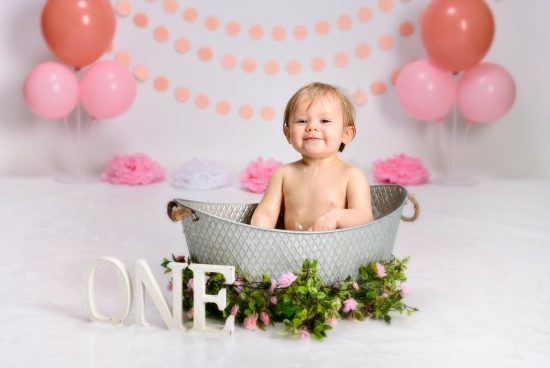 Cake Smash and Splash Photography Session
A low price of just £145
A £30 deposit is required at the time of booking to secure your slot. The remaining balance can either be paid in advance or at the time of the photoshoot
Approx 45 – 1 hour photoshoot
All images taken available for download by .zip & Dropbox link.
No hidden extras, the price you see is the price you pay.
10 Professionally edited images *
Props included although you are welcome to bring your own
Outfits included although you are welcome to bring your own
3 poses available including a vintage bath
Cake not included
Options include:
Strawberry bath
Milk bath
Bubble bath
Lemon bath
*The photoshoot will include 10 professionally edited photos. These photos are chosen by the photographer as deemed the best. If you would like additional photos editing this can be order seperately at a price of £10 per photo.
Weekend cake smash photo shoots can be arranged subject to availability.
Questions?
Email us: Penny@gocreate-preston.co.uk    Call us: 01772 616898
Bookings can be made using the booking form below.
For the price of just £145, you will receive a .zip file with all the photos taken on the day along with a link to download from Dropbox. The download will include a seperate folder containing the edited images.
Places are strictly limited and booking is essential. Please book early to avoid disappointment.
Please note. Payment is required to confirm your booking.
Payment options:
£145.00 inclusive
£30 deposit required at time of booking
Payment by PayPal or credit/debit card
Instant Booking
You should recieve a confirmation email. If for some reason it doesn't arrive, please get in touch!
If you don't receive a confirmation email please check your junk folder first.
Just a small selection of photos from recent cake smash photoshoots!
Go Create! is a local family run business offering cake smash photo shoots to families throughout Lancashire. Penny Aspden is the business owner, photographer, messy play master, creative idea maker, party entertainer and all-round super mum of two children of her own (ages 8 and 12).
We serve customers locally around Longton, Penwortham, Tarleton, Preston and Southport as well as further afield including Blackpool, Blackburn, Bolton and Liverpool.