Mother and Baby Group Meetings
Go Create! in Preston is the Perfect Baby, Toddler and Preschool Meeting Point for Mums and Dads.
Go Create! is a wonderful arts and crafts studio located on the outskirts of the city of Preston on the road towards Southport, Ormskirk and Liverpool.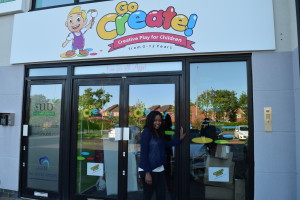 We cater to children of all ages and our purpose designed craft / messy play studio has been created with children in mind, from the warm and comforting decor using blues, oranges and greens to the child sized tables and chairs – we find that all children relax immediately into our environment.
Because of this unique, child friendly setting Go Create! is not only the perfect place to take the kids on a rainy weekend but it's also a wonderful place to meet up with friends and enjoy a coffee without worrying about the safety of your children.
At Go Create! we have lots of different things that  you can do if you are part of a group, these include:
Baby / Toddler / Preschool messy play sessions
Our messy play sessions are incredibly popular, particularly for babies. We run these sessions on Thursdays and Fridays. Please contact us for specific times.
Messy play is suitable for babies as young as 4 months, they don't even need to be sitting. All materials used in our baby sessions are home produced and fully edible. We can cater to specific dietary requirements and can support those with allergies. Please contact us for more information.
All messy play sessions need to be booked in advance so that we can prepare however you can pay on the day, we accept either card or cash or you can pay through our website. Please click here for messy play prices.
If you are part of a mother and baby group or you are part of a group of friends that would like to join in one of our fun messy sessions, please get in touch.
Children's Arts and Crafts
You are welcome to drop in anytime for children's arts and crafts. Go Create! is a fantastic place for parents to meet up with their little ones for a natter.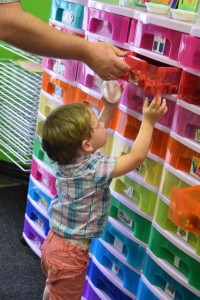 Even the littlest people, babies of under 1 year old can come and do art (with mums help of course) hand and foot prints for example.
For Children of 2 and 3 years we have paint rollers and paint dabbers plus soft modelling clay and playdoh. If you ask we may even have some of our super soft homemade play doh which is often used in the toddler messy play sessions.
For preschoolers and older children they will now be able to investigate all of our brightly coloured craft drawers, we have 66 of them and each one is filled with craft materials. Children can stay as long as they like, use our materials and then take their creation home with them.
Bringing families together
Go Create! are proud to be bringing families together, in this fast paced age when we are all so busy with work and school it's difficult enough trying to find the time for the family to spend some quality time together.
Unfortunately their are not enough places where you can go as a family and just enjoy spending time together. Let's look at the options:
Soft play centers – The kids run off and wear themselves out and you end up sitting alone using the free wifi browsing Facebook for 2 hours.
The Cinema – You all sit staring at a screen for 2 hours and no one talks
The Pub – Not exactly the most child friendly environment
The park – It's ok if it's a nice day but all too often in England it's chucking it down. Besides the kids go off and play and you end up sitting alone browsing Facebook.
Shopping – You might enjoy it, most kids hate it.
Home – You might decide to stay in, save some money and perhaps play board games or do some crafting at home but we all know kids are messy and unfortunately most homes don't have the space necessary to store lots of craft materials.
Go Create! is a low cost, viable alternative. Come down, enjoy spending quality family time together. Have fun, have a latte and enjoy making something with the kids.