For just 1 week starting on Tuesday 8th February – Fri 11th February
we will be running a unique themed photoshoot suitable for babies and preschoolers at a heavily discounted price. Themed photoshoots are lots of fun and can result in some amazing pictures that will last a lifetime.
The theme during this week will be painting which uses edible paint (the same as used in our messy play sessions) which is brushed onto babies body. Following the photoshoot a bath of warm water will be provided so baby goes home lovely and clean.
The price for the discounted photoshoot is just £25 inclusive. Each photoshoot will last approximately 15 minutes and all photos taken during the photoshoot will be emailed to you with a secure Dropbox link.
The price is for 1 child however additional children can be added for an additional £10 per child. This could include siblings or friends.
Due to the price this photoshoot will not include editing. Should you wish to have a photo professionally edited the service can be purchased seperately at a price of £10 per photo.
Beautiful Themed Photoshoot only £99 £25 – BOOK NOW!
Important:

Payment must be made in full at the time of booking or within 1 hour. You should recieve an email confirmation. If payment is not made at the time of booking you can follow the link within this email to make payment.
---
Go Create! photography now offers fantastic themed photoshoots for babies from 3 months up to just walking babies and includes our  popular vintage, chef, gardening & edible themed painting photoshoots.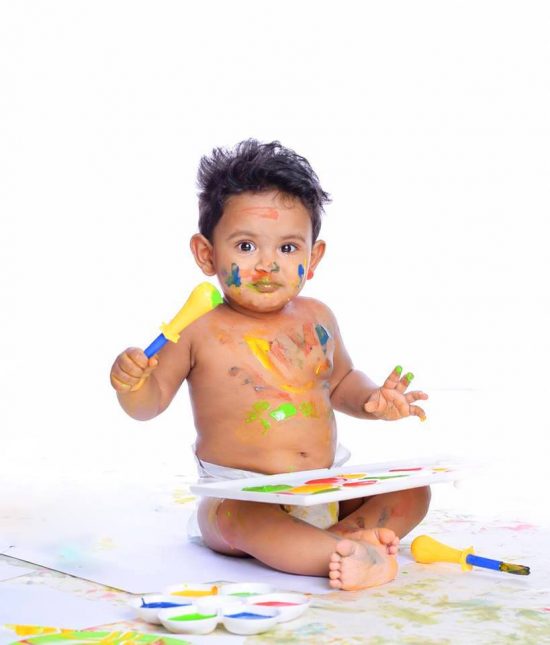 Siblings are welcome to join in the photoshoot at no additional cost and we aim to offer beautiful unique photos at a fraction of the cost you would normally expect to pay in a regular photo studio.
For the price of just £99, all inclusive you will receive a .zip file with all of the photos taken on the day along with a link to our Dropbox for instant download. There are zero additional costs, the price you see is the price you pay.
In addition, you would normally expect to receive your photos within 24 hours although it's often much sooner.
Enhancements are not normally required however they can be made to photos for an additional £10 per photo. If you would like to use this service please speak to us after you have received your photos and viewed the high-quality resolution images.
Examples of the themes for the photoshoots include:
Painting Theme
Vintage Bath
Chef
Gardening Theme
Email us: Penny@gocreate-preston.co.uk    Call us: 01772 616898
Bookings can be made using the booking form below.
What's included:
You will receive a photo shoot of your little one in one of the themed photoshoots above lasting up to 45 minutes.
Please state on the booking form which photoshoot you would prefer. Please note, we require a minimum of 24 hours notice to prepare the studio. If you don't state a theme in the description box the setting will not be themed.
We will provide the backdrop and all props however you are welcome to bring your own props.
Baby / Toddler / Preschool Themed Photo Session

A low price of just £99
Approx 45 min photoshoot
All images taken available for download by .zip & Dropbox link, often within 24 hours
No hidden extras, the price you see is the price you pay.
We don't print images or offer retouching. However, these can be added after the photoshoot is you wish.
Props included although you are welcome to bring your own
3 poses available
Siblings welcome
Questions?
Bookings can be made using the booking form below.
For the price of just £99, you will receive a .zip file with all the photos taken on the day along with a link to download the images from Dropbox.
We now do themed photo shoots on Tuesdays only however, if you are not available on these days please give us a call on 01772 616898 and we will check availability and try to book you in for a different day.
Places are strictly limited and booking is essential. Please book early to avoid disappointment.
Please note. Payment is required to confirm your booking.
Payment options:
£99.00 inclusive
Payment by PayPal, Credit card or bank transfer
Instant Booking
If you don't receive a confirmation email please check your junk folder and whitelist the gocreate-preston.co.uk domain.
Go Create! is a local family run business offering cake smash photo shoots to families throughout Lancashire. Penny Aspden is the business owner, photographer, messy play master, creative idea maker, party entertainer and all-round super mum of two children of her own (ages 4 and 9).
We serve customers locally around Longton, Penwortham, Tarleton and Preston as well as further afield including Blackpool, Blackburn, Bolton and Liverpool.