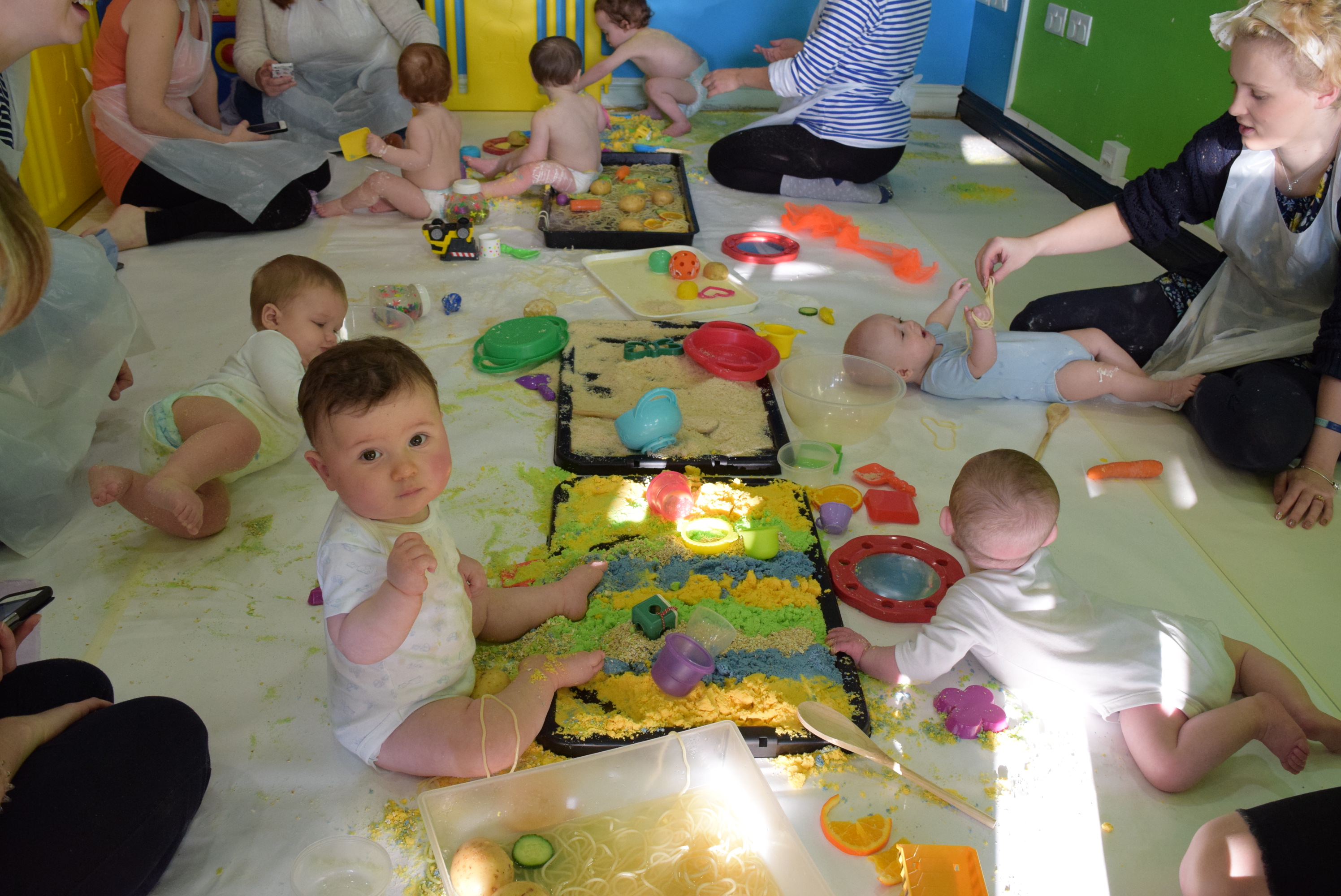 Book a Messy Play Session
Our baby and toddler messy play sessions are very popular and need to be booked in advance. You can pay for your session using PayPal by filling in the form below.
Update April 2021: We have recently moved to a preferred block booking system. This means that bookings of 4 weeks are preferred. This would hopefully enable us to guarantee that sessions have the minimum number of babies and should result in fewer cancelled sessions.
It is important that we receive the correct following information.
Your name
Your little ones DOB
If your little one has any allergies
A working contact telephone number
Messy play is now held on a Tuesday and Friday morning only from 10.15-11.15 (term time only). Sessions are suitable for babies from around 5 months to just walking.
During your session your baby will have lots of fun with various edible ingredients. Each week we use a different theme and no two sessions are the same.
Lots of Messy play fun
Snack for baby included
Bath of water for baby included
Specific toddler and pre-school activities are available on Wednesday and Thursday mornings until 11.30.
Please call us on 01772 616898 for more details.
If you are experiencing problems placing your booking, please send an email to penny@gocreate-preston.co.uk or call us on 01772 616898.
Please use the PayPal button below to book a block of 4 sessions
Book a block of 4 baby messy play sessions for just £32.00 (must be on concurrent weeks but can be different days).
Click the PayPal pay now button below to book your 4 sessions.
Please use the form below to book individual baby messy play sessions
If you would like to just book one session please use the booking form below. Individual sessions cost £8.50
PLEASE NOTE: You should receive a confirmation email. If you don't get one within a few minutes please check your junk folder and consider whitelisting gocreate-preston.co.uk
You can pay for your messy play session at Go Create! even if you don't have a PayPal account however you will be required to enter your debit or credit card details – Please use checkout as a guest in this case.
If you would prefer to make payment by bank transfer, please email us or call 01772 616898 for details.
Unique and fun messy play sessions for babies from 5 months in Preston, Lancashire. Sessions are run every Thursday and Friday morning during term time. Booking is required.