February Half Term Crafts, Slime Making and Workshops at Go Create!
Weekend and Half Term Visits just £8.50 for up to 2 hours for 5+ (full prices)
Go Create! in Preston is a fantastic art and craft studio designed with children in mind. We are located on the main A59 which runs between Preston and Southport. If you are driving it's about 20 minutes from Southport and 15 minutes from Preston City Centre. The studio is located within a retail park with lots of free parking.
"Fantastic Fun for all the Family"
We have worked hard to try and make Go Create! an inviting and interesting place for children to come and play, do art and have fun. Our main focus is our brightly coloured craft drawers, we have 66 and each one is filled with different craft materials.
We also have kid-sized tables and chairs suitable for children as young as two years old.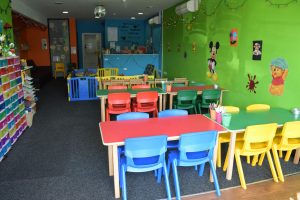 A craft session is lots of fun and allows children the use of our studio and the vast selection of arts and crafts materials contained within our 66 craft drawers.
Older children are free to use any of the materials in our drawers and anything they make they can take home with them. Sessions are up to 2 hours during busy periods however you will never feel rushed to leave and we encourage you to take the time needed to finish your creations. We also have 'idea books' if you are struggling for inspiration and there are lots of ideas dotted around the room, there is always someone around to lend a hand and offer helpful advice and tips if required.
Prices:
Sessions during half term cost £8.50 (Age 5+ school holidays) for up to 2 hours.
Preschool children cost £7.00 (Under 5's) for upto 2 hours.
Prices include full use of craft materials
Bookings:
Online bookings are not required however, during half term we do get busy so advance booking is highly recommended.
Bookings can be made using the booking form below.
Children of age 5 or above can be booked and paid for by PayPal or bank transfer. Younger siblings or preschoolers can still book using the booking form and either pay by bank transfer or pay on the door.
If you have any questions, please call us on 01772 616898 or 07513605528.
Workshops:
Workshops will be running daily throughout half term. Available workshops include crafts, slime making and sand art. Please see our workshop booking page for further information
Click here to book a Slime Making Workshop, Craft Workshop or Sand Art Workshop
Parents are required to stay with their children. Hot and cold food and drinks are available from our cafe.
Please note that these are not guided sessions. They are self serve.
Following your session, we respectfully request that any unused materials are returned to the craft drawers. No further tidying or cleaning is required. We will clean the table and wash all the brushes etc.